Every 12 years from the month of July to December the Nilgiri hills turn blue as the Neelakurunji flowers that the hills derive their name from coming into full bloom. This absolutely spectacular phenomenon turns the entire Nilgiri hills into magnificent shades of bluish purple and makes the entire expanse look like a carpet in blue.
The Neelakurinji flower is actually a shrub that blooms profusely every 12 years in the forests of the Western Ghats in the South of India. The last mass flowering of the Neelakurinji was witnessed in 2006 and as per its cycle the next one is expected in 2018. The height of the plant varies from 30 to 60cm however taller plants that grow well beyond 180cm can be seen at lower elevations.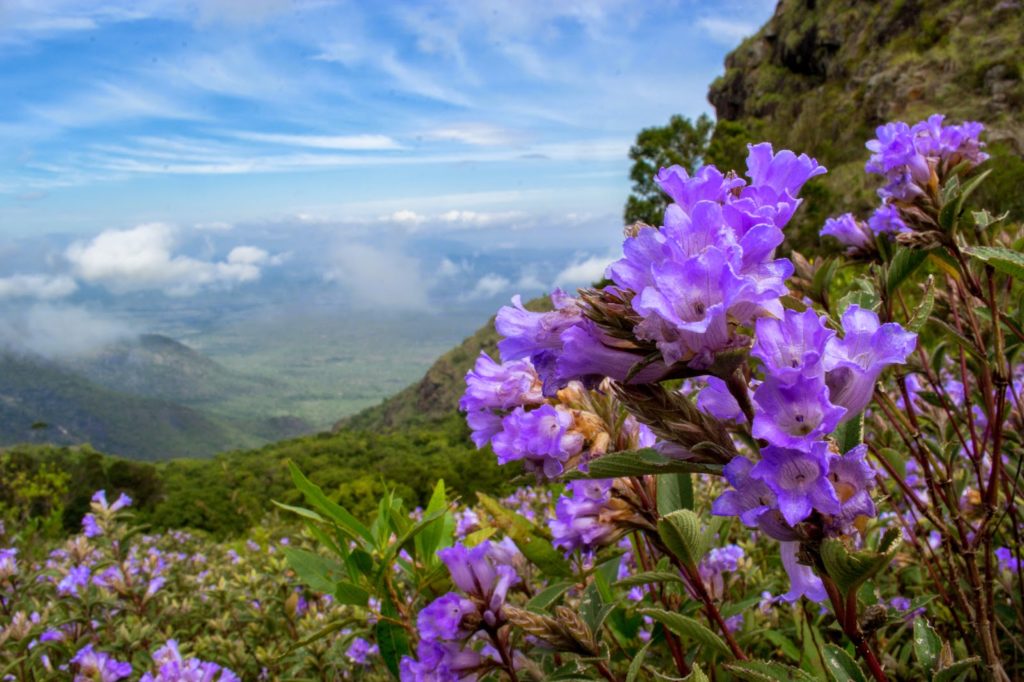 Munnar situated 1600 mt above sea level is famous for the mass flowering of the Neelakurunji once in 12 years and this cycle was first recorded in the year 1838. Found abundantly in and around Munnar once in bloom, the Eravikulam National park is most famous for its flowering and also for the endangered Nilgiri Tahr. The Kerela government is making all possible efforts to protect the habitat of the Neelakurunji flowers threatened by plantations and dwellings.
The myths and legends associated with the Neelajurinji are intertwined with the lives of the tribals of Munnar and Nilgiris. Neelakurunji is considered to be the flower of Lord Muruga. Folk lore has it that their God married a tribal girl by placing a garland made of the Neelakurunji flowers around her neck. They also consider the flower to be a symbol of love and romance. All efforts are made to preserve the plant till the seeds mature ten months after its flowering. They also refer to its flowering cycle to calculate their age.
As there are at least 45 varieties of the Neelakurunji in Munnar with different cycles blooms are witnessed at varying intervals. Tourists and nature lovers alike flock to Munnar this absolutely unique and stunning sight and to take the breathtaking beauty of the hills when the flowers are in full bloom. A truly ethereal experience to be amidst the sprawling blooms  and witness the magic of nature.
To know about our Kerala journeys click here.