5 Incredible and Immersive Journeys in India
Perhaps one of the most beautiful and appealing things about travelling in India is the sheer diversity and explosion of immersive cultural experiences that are immediately within reach. Out here, it's not just the topography that changes as you make your way through the land; the very cultural fabric of each region changes as well.
And the culture here takes on many forms – from the food you eat to the people you spend time with or the beauty of nature hidden in plain sight.
With the entire country teeming with an abundance of cultural experiences to soak in, where do you get started? We recommend picking any of the following five immersive journeys and not giving up until you've checked them all off!
1.  The South India Sojourn

The Dravidian South is a place where folklore, food, and tremendous architecture converge with stunning landscapes, seascapes, and glorious sunsets. And depending on when you decide to visit, you'll be privy to the splendour of South Indian festivals, complete with their own processions featuring gold caparisoned elephants and decorated chariots.

Some of the must-visit highlights when you're traipsing through the South as a whole are a visit to Fort St. George built by the East India Company (EIC) in Chennai. Incidentally, the Fort Museum also houses an extensive collection of artefacts – currency, medals, weaponry, etc. – dating back to the early days of the EIC.

What else can the "culture vultures" delve into?

For art lovers, there's always the charm of Tanjore with its art galleries, paintings, and a rich collection of bronze and stone statues from the 9th – 12th centuries, C.E. And true food enthusiasts can begin their discovery of the South through the multitude of spice plantations.

Recommended Itinerary: South India with Kerala River Cruises
2. Bhutan: Mountains, Valleys, and Breathtaking Views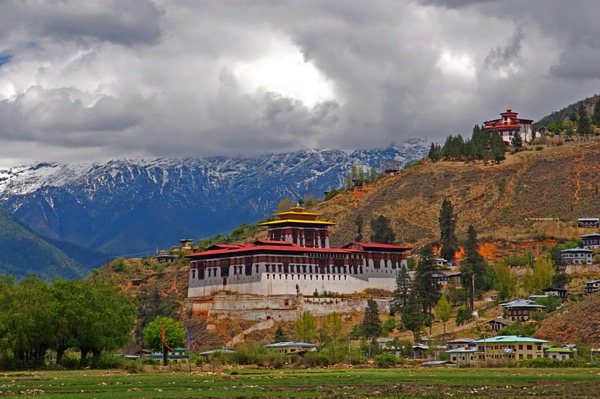 When we take a moment to think about how to describe Bhutan, the words that consistently make it to the top of the list are peaceful, picturesque, and beautiful. Flanked by the majesty of the Himalayas and dotted with lush, green, and floral valleys, Bhutan is a nature lover's dream come true.

But the Bhutanese journey doesn't just begin and end there. It carries far forward into a country full of medieval fortresses, Buddhist monasteries, and vibrant and colourful markets with abundant local handiwork for sale.
In Thimphu, you must visit Tashichhodzong, the medieval fortress which houses the King's Throne room. The fortress also serves as the summer residence of Je Khenpo, the Chief Abbot.

Thimphu also leads you to the confluence of the Punakha Chu and Tang Chu rivers, from where you can see the imposing Wangdue Phodrang Dzong. And should you find yourself falling in love with the distinctive dzong architecture, there's more for you to explore in Paro with the Ta Dzong and the Rinpung Dzong ('the fortress of the heap of jewels'). The former, which was originally built as a watchtower, is now a national museum.
When you're in Bhutan, consider clubbing your visit with a stop by Assam for a full immersion into the Northeast.

Recommended Itinerary: Bhutan with the Brahmaputra River
3. National Parks and a Tryst with Wildlife

As we mentioned in the beginning, there's no dearth of immersive travel in the incredible landmass that India is. If you really don't see yourself trekking through hills or sauntering through markets at sunset, perhaps a "wilder" journey might be more your cup of tea.

Allow us to recommend The Bandhavgarh National Park, which once was a hunting ground for the Maharaja of Rewa. In present times, Bandhavgarh has gained widespread fame for housing the highest density of tigers in India; therefore, giving you myriad opportunities for tiger-spotting from a fairly close vantage point.

Not a fan of tigers? You could set aside some time to explore Kanha National Park instead (or even in addition to!) for a little game time with spotted deer, sloth bears, langurs, and the distinctly unusual gaur (Indian bison). Kanha is also home to lush bamboo and sal forests, deep ravines, and broad brushstrokes of grassy meadows.

There's definitely more than one way to commune with nature – and for those amongst us who like to live wild and free (or as close to it as possible!), we highly recommend an up-close and personal tryst with India's resplendent wildlife.

In the event, you'd like to take a break from long stretches of wildlife, make a quick stop at the Bhoramdeo temples right outside Kanha, which have been compared to the Khajuraho temples.

Recommended Itinerary: The Wildlife Tour of India
4. The Tiger, the Mountain, and the River
Far from the maddening crowd! Every once in a while, every seasoned (or unseasoned!) traveller in India must pay homage to the undulating distance that spans between the timeless charm of Old Delhi, the towering forests of Nainital and Binsar, and the persisting wildlife of Corbett National Park.

Where the frenzy of Delhi's fabled food and bazaars will keep your mind and your tastebuds happily occupied, the broadleaf oak forests of Nainital and Binsar – home to over 200 species of birds – will allow you to unravel and unwind with deep breaths of fresh air and a bright, blue sky.

And where Old Delhi's narrow lanes are teeming with sensory explosions at every corner you turn, the Panchchuli Trail in Binsar lends a spectacular window to the Himalayas and fiery sunsets, right on the trail.

And if all you'd like to do is walk – or sit – alongside a riverbed, Corbett offers the Ramganga river and reservoir, which is a haven for a wide range of fauna like goats, antelopes, Hog Deer, otters, mongoose, and the gharial, just to name a few. Unsurprisingly, the lush vegetation of Corbett makes it a natural home for wild animal species like tigers and elephants as well.

Recommended Itinerary: Tiger, Mountain & River
5. The Colourful Villages of North India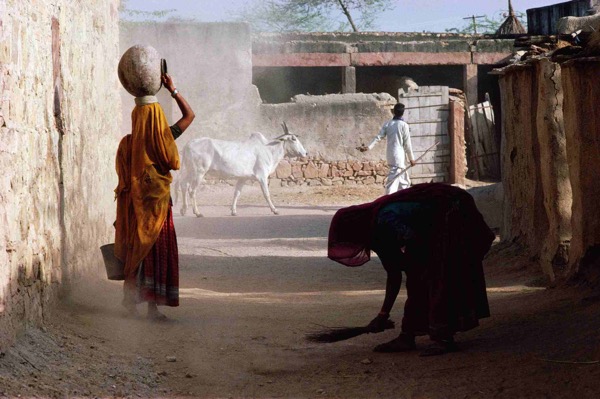 India's villages – firmly rooted in tradition – offer a glimpse into a hard-working and colourful life that's deeply connected to the earth it springs from. And quite often, many of these villages are nested on the outskirts of large cities that provide opportunities for livelihood and trade.

For instance, places like Mandawa in Rajasthan (in the heart of the Shekhawati region) are the surprising homes of palaces and fortresses that have preserved some of the original grandeur of the original homeowners.

Further into the heart of Rajasthan lies Kalakho and the Dera Village Retreat. Specially created for exploring the Living Cultures of India, Dera greets you with joyful folk and dance performances. When you're here, you'll also have the opportunity to visit the Meena tribe and take a ride on camelback.  

Many of these villages also sit close to Ancient Indian relics and architecture, like the temples at Khajuraho which are adorned with elaborate carvings and sculptures, and have captured mythology and movements in history on their walls.

Oftentimes, these villages are also doorways to national parks and sanctuaries, e.g. the Bharatpur Bird Sanctuary. Wherever you decide to go explore, Indian villages will always be just around the corner with a warm welcome.

Recommended Itinerary: North India with Village Safari
We hope that after reading this blog post, you'll be able to set aside the time to go explore any or all of these incredible and immersive journeys through India. Whichever journey you decide on first, we know for sure that you'll bring back more than a lifetime's worth of memories and stories to share.