Svatma, in the Thanjavur district of Tamil Nadu, is a heritage site refurbished by Krithika Subramaniam who used her architectural education and love for art and culture into the creation of this mystical space. She aims to take her guests on the voyage of rich culture and culinary heritage discovery of Thanjavur with a hint of modern day luxury.
The Svatma hotel is one of the most architecturally intriguing and well-decorated properties to look forward to during your next South Indian tour.
Here's what to expect during your stay:
History
At one time, Svatma garnered a lot of importance because it was situated in the capital city of the Chola kingdom. Over a century old, this property was a home to musician named Rama Kausalya and has been a family legacy ever since. Svatma is still home to sculptures from the Chola Era, murals of dancers, along with black and white photographs with religious verses.
Accommodation
The rooms at Svatma are bound to leave you in an awe with their beauty and intricacy in craftsmanship. There are 38 rooms in total which have been crafted with a vision of art suspended in time. Each room is outfitted with modern luxury amenities while staying true to its historic relevance and former glory.
The main heritage building has 7 suites and each of them comes with its own verandah. All suites have very uniquely designed and polished floorboards, wooden pillars, and beams providing the right Tamilian elegance to them.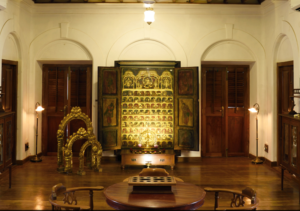 Dining
One of the most significant aspects of the Svatma experience is its culinary heritage. Svatma's designer, Krithika, made sure that the classicism of Tamilian culture is abundantly evident in all the details.
Svatma has 3 different restaurants, namely, Aaharam, Palahram, and Nila.
Aaharam overlooks the pool and serves the traditional Tamil cuisine, all day long. Palaharam is the restaurant with a breezier and more casual feel where people can gather in the verandah for a light coffee and chat. On the other hand, Nila is a rooftop bar for delightful conversation over cocktails.
Wellness
Svatma opens itself to an immersive journey that can only be corroborated through your own experience. For instance, each guest will experience the tenderness of the hospitality along with the tranquillity of Thanjavur in their own unique way.
For a wholesome introspective and relaxing experience, the hotel also offers you a wellness centre – called Arogyam & Soukyam – with yoga instructors and therapists to guide you through your sessions. And the hot water tubs are always a journey in decadence.
If you are just in the mood for relaxation, away from the stressful city life, this is your escape.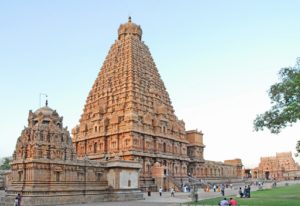 Sightseeing Around Svatma
The hotel is within a walking distance from the Thanjavur Royal Palace and Art Gallery.
They are essentials of the travel checklist to the city.
The other places that are available around the Brihadeeswara temple, Gangaikonda Cholapuram, Rameshwaram, Darasuram temple.
As described by Krithika Subramaniam, "Svatma is a perfect combination of classicism and quirkiness." When you visit Thanjavur and stay at Svatma, you'll get to experience an unforgettable vision suspended in a time away from the chaos of modernity.