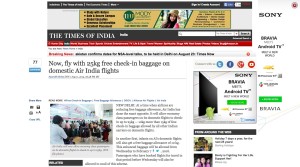 At a time when airlines are reducing free baggage allowance, Air India has done the exact opposite. It will allow economy class passengers on its domestic flights to check-in up to 25kg — 10kg more than 15kg of free check-in baggage allowed by all other Indian carriers on domestic flights.
In another first, infants on AI's domestic flights will also get a free baggage allowance of 10 kg. This enhanced baggage will be allowed from Wednesday to February 7, 2016. Passengers who have booked flights for travel in that period before Wednesday will also be allowed to avail of this scheme.
Read the full Indiatimes.com post here.