The Majuli Festival
Positioned in the heart of the mighty Brahmaputra, the Majuli Island is home to the largest river island festival in the world, the Majuli festival. Over time, it has transformed into an extravaganza that is now an integral part of Assam's identity.
The festival is a huge get together for cultural groups from Assam and all around the country. The festival witnesses the traditional lineage of Assamese production which comes from various artists in Assam. The next major attraction is the food festival in Majuli, offering a plethora of choices for authentic Assamese cuisine. Being a remarkable event in itself, Majuli festival is a place where numerous traditional and individual cultural identities coexist in peace.
The best time to witness the splendid Majuli festival is in the month of November, keeping in mind the climatic conditions and a safe road commute for the travellers. Long story short, Majuli festival is the next getaway to plan!
Bihu
Bihu is one of the most popular festivals in Assam and involves everyone's participation irrespective of their caste or creed. This festival marks the end of the harvest season and is celebrated with immense pomp and show. The festivities start with the onset of the spring season in January. From choosing to fast the night before or make merry to celebrating a good harvest together, Bihu is all about togetherness and love.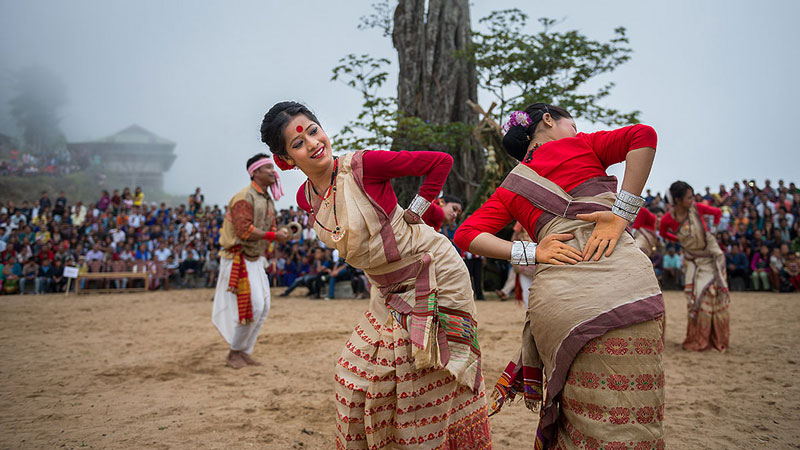 Traditional dance, music and food along with the touch of a contemporary, ever-modifying definition to the idea behind the auspicious festival make Bihu a bucket list special.
Ambubachi
The Ambubachi Mela is the most significant festival of the Kamakhya temple of Guwahati. The festival majorly revolves around the goddess Kamakhya and it is believed that the goddess goes through her menstruation cycle for three days and following the same, the ceremonies and the worshipping come to a halt for a period of three days. On the fourth day, the temple reopens and thousands of pilgrims flood in to visit the Kamakhya temple in Guwahati.
The Ambubachi Mela is celebrated in the monsoons, so the best time to witness this once in a lifetime experience is to visit Guwahati in the second half of June. Packing your bags already?
Assam is an extraordinary destination with a myriad of experiences to offer, and what would be a better time to visit the state than the cheerful festive season?  From travel to the indigenous food, and from luxury cruising to bringing the best of two worlds together, come experience Assam in its natural form.
Happy travelling!