It is often said that true magnificence of anything can be truly measured by how much of it is left even after it is ruined.  Once a flourished city of global prominence, Hampi was established in the mid-14th century by the Vijayanagara Empire.
Loaded with ancient myths, beautiful rocky landscapes, numerous legends and significant historical facts, Hampi truly is a forgotten city in lieu of having multiple references in popular scripts like Ramayana, Puranas and Ashokan epigraphy.
Myths:
There are several myths associated with Hampi popularly for its association in legends of Shiva and Parvati and it is also believed that Hampi has multiple references in Ramayana.
Shiva and Parvati:
In Hindu Mythology, the story of Lord Shiva and Parvati holds high significance and Hampi has utmost importance in their origin story.
As per the mythology goes, Parvati made a resolve to marry Shiva but her parents and Lord Shiva, Himself, discouraged her not to pursue her desires.
Parvati insisted and prayed to other Gods. Indra heard Parvati's plea and took the assistance of Kamadev, God of desire. Kamadev tried to shoot Shiva with an arrow of desire but Lord Shiva opened his third eye and burned Kamadev to ashes.
When even Gods failed, Parvati resorted to living like Shiva, practising asceticism, yoga and tapasya, Shiva, in the end, gave up and agreed to marry Devi Parvati.
Hampi is traditionally known as "Pampa-kshetra" derived from "Pampa", another name for Goddess Parvati. As per Sthala Purana, a popular ancient text, Parvati practised asceticism, yoga and tapasya on Hemakuta Hill in Hampi. Over time the word "Pampa" turned to "Hampa" in Kannada and eventually to "Hampe" or "Hampi" as we most know it today.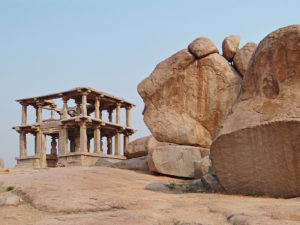 Ramayana: In the epic Ramayan, Kishkinda chapters mention Pampa-kshetra where Lord Rama and Lakshmana in search of Sita, meet Hanuman, Sugriva and gather their ape army. Many landscapes in Hampi resembles places mentioned in Ramayana
Historical Facts: Hampi was a part of the Mauryan Empire with evidence dated back to 3rd century BC. Hampi also has inscriptions dating back to 2nd century AD and 6th and 8th century AD. We are talking about inscription for over 2000 years old.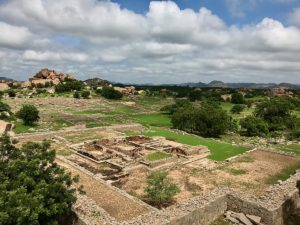 During the 14th century, Hampi was popularly known as Vijayanagara, heart of Vijayanagara Empire. According to European scholar, Nicholas Gier, Vijayanagara was a second wealthiest dynasty after Beijing by 1500 CE. Ironically enough, it's prosperity is what led to its demise in 1565 when a coalition of Sultans invaded and destroyed the Vijayanagara empire. Despite being brutally pillaged, the land still has a faint ray of its glowing glorified past somehow surviving in ruins.
Places to Visit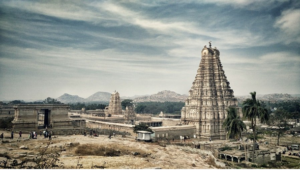 Virupaksha Temple: From Vijayanagara era, Virupaksha Temple was built during the time 1424 – 1465 AD. There are Temples of Shiva, Durga, Parvati that date back to 11th Century AD.
Virupaksha temple is actually a collection of small temples with excellent architectural and utility designs for a community kitchen, water tank and other monuments. While in modern times we have bridges and building collapsing, the monuments in Virupaksha temple are an impeccable example of ingenious ancient architectural and mathematical accuracy which still stood for over 1000 years.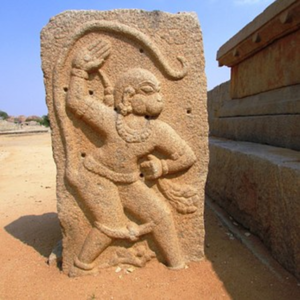 Hazara Ramaswamy: Hazara Ramaswamy was a ceremonial temple built in 15th century AD with brilliant architectural designs for ventilation, encryptions of ancient processions, rituals, festivals and an extensive narration of epic Ramayana on its walls and 4 carefully carved Pillars designed in Hoysala architecture which dates back to 11th century. The temple is primarily dedicated to Lord Rama but still has references to Shiva Parvati and Durga as Mahisasuramardini and Jain deity Mahavir.
Markets: In its prime, Hampi had successfully established itself as a global platform for international trade which included diamonds and other merchandise with traders of Middle East, Persian and oriental origins.
Today Hampi bazaar, as commonly known, offers an assortment of local merchandise like weaved shawls and textiles, customary costumes, antique coins, gems, stone figurines, carved artefacts, leather crafts, clay dolls, etc. One of the intriguing things found in the Hampi Bazaar is the copy of Hampi ruins.
Festivals: In addition to other holidays, Hampi has a unique "Hampi Utsav" that carries out many activities and events every year. It is an extravagant event with cultural dance, music programs, puppet shows, fireworks and delightful decorations. Hampi Utsav attracts tourists from all over the country and the world along with popular artists.
 The land of Hampi has experienced many rulers, wars, invasion, the evolution of world trade for over a century and not to mention Gods and still manages to withstand time and struggled through. Hampi is a city of magnificent historical evidence for ancient Indian culture, unity, prominence, intelligence and art forms dating for over a period of 2000 years and deserves its recognition as a World Heritage Site declared by UNESCO.