A relaxed few days spent in one of the most spectacular forts of Rajasthan makes a perfect getaway for those passionate about history and wishing to take a step back in time, to the days of Indian royalty. Located in Rajasmand, 93 km from Udaipur airport is the Sardargarh Fort situated amidst the backdrop of the Aravali hills and the forests of Chuppun.
Sardargarh Fort, built by Sardar Singh Dhodia, between 1738 and 1743 is one of the most imposing and magnificent forts of India. Perched on  top of a hillock this massive beauty in stone dominates its surrounding area. Now converted into a  luxurious Heritage Hotel, the hotel has managed to retain its authenticity and inherent character as far as possible. Rising high above the village of Lawah, located at the foothills of this beautiful fort, the hotel offers a breathtakingly beautiful view from all sides.
The Zenana Mahal, which comprises  the apartments of the Queens of the days gone by, is part of the hotel now. The hotel boasts of 21 elegantly decorated suites with all the trappings of  modern urban existence yet reminiscent of the oppulence of the past and the ultimate in luxury and comfort. Neatly manicured lawns, a swimming pool and a well maintained courtyard all add to the charm of this stunningly beautiful heritage hotel.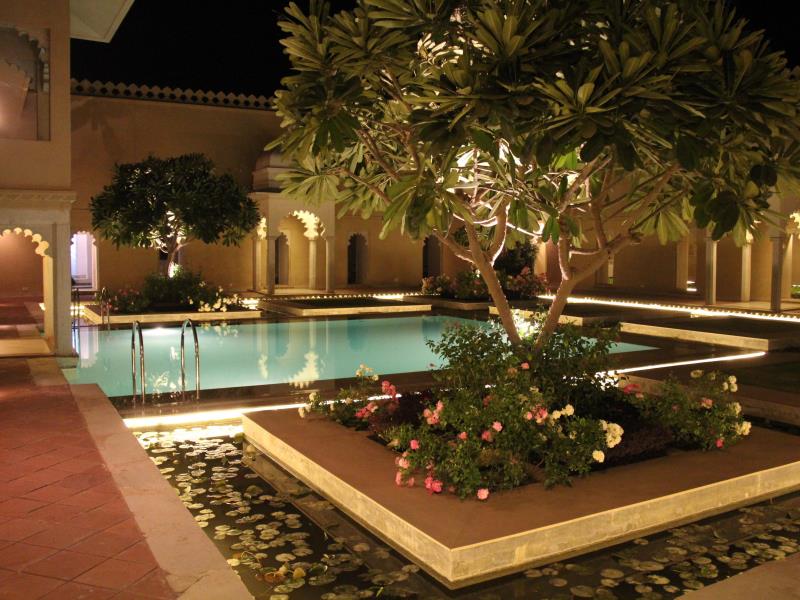 The several beautiful palaces within the fort speak of the architectural excellence that Rajasthan is known for. The Moti Mahal, the Zenana Mahal, the Suraj Mahal and the Wadi Mahal, to name a few, are some of the finest architectural specimens of the time. Steeped in history, this Heritage Hotel still retains its medieval underground structures like the passage systems, the tunnels, the granaries, the halls and rooms ,open to guests staying at the hotel. So make it a point to explore all that this spectacular fort hotel has to offer.
The hotel offers the most delectable cuisine, both Indian and continental. Also a must try are the mouthwatering Mewari dishes the hotel has on its menu. Enjoy a relaxed dinner served on the roof top terrace accompanied with Rajasthani folk music and dance. The service is excellent and the staff, attentive.
The hotel organises day trips and excursions for guests to nearby tourist attractions like the Jain temple at Ranakpur, Kumbhalgarh, Chittorgarh, Nathdwara, Rupnarayan temple etc.
Also organised by the hotel are night Safaris and a train journey of 44km on a local train accompanied by a guide with small stop overs in between. Walk over to the village and interact with the locals in your spare time.
All in all a unique holiday experience which transports you to an era gone by and gives you an opportunity to relive history. A welcome change and a great chance to enjoy the famous Indian hospitality at its very best.