Every festival in South India has a unique origin, rich history, secular nature and deep meaning connected to it that enhances its values and makes it of tremendous importance.
Overall, these are six major festivals in South India that are celebrated with unparalleled pomp and enthusiasm.
Pongal
Pongal marks the arrival of festivals in South India. It is celebrated majorly in Tamil Nadu and in a few other parts of Southern India. In fact, harvest festivals are celebrated all around India during mid-January as this marks the beginning of uttarayana (the sun's six month long journey towards the north).
Pongal is a festival of thanksgiving for a healthy harvest to the sun-god as well as to Lord Indra. It is celebrated with ceremonial worship, rangoli making, and small picnics.
Chithrapournami
Chithrapournami is one of the most glorious events that takes place in South India. It is held in the Mangaladevi temple, Kerala which is located in the dense forests of Periyar Tiger Reserve at a height of 1337m above sea level.
The temple opens once a year for this celebration. The festival honours the goddess Mangladevi, who is a symbol of moral power that resides in an ordinary woman. People worship the deity to dissolve their old sins and resolve to not commit acts that are considered sinful in society.
Devotees from all across the nation visit to perform special pujas, aradhanas, homam and offer flowers and milk for abhishekam. Women are offered bangles and mangala sutra as prasadam in the temple.
Vishu
Vishu embarks the New Year in Kerala, when astrologically the Sun enters the sidereal Aries. It usually falls in the month of April around the same time when Baisakhi and Bihu are celebrated in Punjab and Assam respectively. The celebration begins with worshipping Lord Vishnu and his avatar Lord Krishna as well as a panorama of food, flowers, gold coins, and clothes which are offered to him as gratitude.
On this day, people organise a grand feast for lunch called vishu sadya which has all the favorite meals of the locals such as vishu kanji (made of rice, coconut milk, and spices), vishu katta (prepared from rice powder, coconut milk and jaggery), thoran (side dish) and mampazhappulissery (sour mango soup), etc.
It is also celebrated amongst family and friends with the exchange of gifts and blessings.
Onam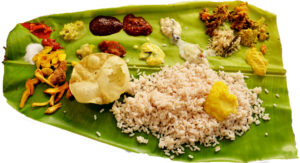 Onam is a Malayali Hindu festival commonly celebrated in Kerala in the month of August. The festival celebrated during the rice harvest, as a gratitude to the sun and rain every year. Each house has beautiful flowers and palm leaves decorations called pookalam.
Onasadya, a grand feast prepared on Thiruonam is the most impressive part of Onam celebrations. It is a 9 course meal consisting of almost 12 essential dishes.
Traditional snake boat races called Vallamkali during this festival are an absolute delight to watch. It is named so because the curled ends of the boat is similar to the hood of a cobra. Vallamkali are no ordinary boats as they, unlike other boats, have standardised measurements. It is prepared with absolute precision and patience by the most talented artisans and it carries no less than 150 men at a time. Only men are allowed to touch it and that too with bare feet. The boat is treated as a deity and is repaired annually.
Arattupuzha Pooram
Pooram is a festival celebrated in the temples of Kerala dedicated to the goddess Durga or Kali.
Arattupuzha Pooram is the oldest Pooram celebrated in the Thrissur district of Kerala for seven days at the Sree Sastha Temple. It is popularly known as 'the greatest devamela on earth.' The annual festival experiences a spectrum of colours, splendour, elephants and mass participation.
23 deities from the neighbouring temples visit the temple to pay their obeisance to the gods (Sastha) and goddesses of the temple in Thrissur. The 'ezhunnellippu' or 'procession of the thidambu' is the main attraction of the whole festival during which there is a procession of beautifully decorated elephants and orchestra.
The other kinds of Poorams that are celebrated in Kerala are Uthralikavu Pooram, Arattupuzha-Peruvanam Pooram, Anthimahakalankavu Vela and many more.
Ugadi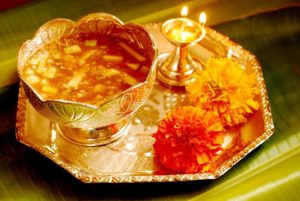 Ugadi is a major Hindu festival celebrated as the New Year in Karnataka and Andhra Pradesh around March. It is celebrated all over India with different names but same enthusiasm and pomp. The term ugadi means aadi or 'the beginning'.
Bonus Festival of South India
Rathosalvam
Rathosalvam is an annual ten-day chariot festival conducted in the Kalpathi village of Palakkad district in Kerala in the month of November. The chariots at the Sree Viswanatha Swamy temple are decorated with colourful flowers and Lord Shiva's idol residing in it.
The festival is a celebration of the power of Lord Shiva. There is a procession in the city where thousands of worshippers sing and dance to show their love and respect for the god. This ritual is called 'devarathasamgamam.'
On this pious day, people get rid of their old and useless household items, clean their spaces, and display mango leaves on the doorways.
Travelling in India is a way of coming face to face with its largely diverse traditions, culture, and rituals. All dates of the festivals are to subject to change. Explore the South India Itinerary with us and for more information, visit www.farhorizonindia.com