Toy Makers of Varanasi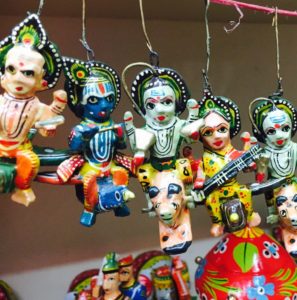 Benaras, now known as Varanasi is one of the oldest cities in the world. From a time long forgotten, people from different cultures, communities, religions, and traditions came and thrived by the banks of river Ganga.With time, they developed exclusive art, craft and music skills and Benaras became home to innumerable artists and craftsmen.
Among these numerous art forms is Toy Making– an overlooked piece of history. Many people have stumbled upon this craft while travelling through this old city, yet it fails to get enough traction to revive its old charisma.
History
Few people know about Khojwa, the colony of craftsmen that have been practising wood carving for generations. The craftsmen, who practice this art of hand carving, pass it down from one generation to the next. The main purpose of these toys is to give joy and provide a means of recreation to children.
Themes
The most popular toys sold during festivals and fairs are the religious-themed toys which help keep alive the mythological and religious stories of India. Then there are also toys showcasing the daily life and activities of the common people. To keep up with the pace of the developing toy making industry, the toy makers of Benares have now started making 3D toys, a common sight in the markets of Varanasi nowadays.
Process
Hand carving is a slow and tedious process. The skilled craftsmen pay no attention to the dust and noise and carry on with all their might to produce a work of art. The craftsman then manipulates a stick of Lac (the glaze on top of the toys) by heating it slowly. Once the Lac stick is palpable, it is pressed against the wooden toy to be spread across its surface evenly. Various vibrant colours are used and some intricate patterns are painted over the lacquered pieces for beautification.  
"I fell in love with a Lord Hanuman (Monkey God)  idol made of lacquered wood hanging at the reception of a small boutique hotel in Varanasi," says Jaya Kashyap, an avid traveller.
What Motivates Them to Continue?
Why do these craftsmen work tirelessly to create such pieces of art without the intended returns? Every craftsman had the same answer, just to see a wide smile on a child's face – the face of pure and innocent joy. It is rare to find so much devotion and purity of purpose going into a piece of art these days.
Toymaking is a craft that must be encouraged and saved from possible extinction. The new generation, understandably, shies away from continuing this age-old tradition due to its low returns.
At Far Horizon, we believe in standing with the craftsmen of this dying art and supporting them in not letting a legacy of old Varanasi die. These artists deserve their due and together, we should all do our best to revive this slowly disappearing craft. Go to their stores, buy their art, listen to their stories and take it to the world. One step at a time.