The Far Horizon Magazine's Top Picks
Infinity Pool. The words suggest luxury, sublime relaxation, views, and of course cocktails. Long languid hours floating in the azure waters, admiring the view, perhaps a few laps before you recline on the pool lounger, a refreshing drink at your side. What could be a more pleasurable way to spend a day – or more?
VIVANTA BY TAJ MALABAR, KOCHI
Vivanta By Taj tells you immediately that any stay here will be special. On an island facing the Arabian Sea, afternoon breezes bring the scent of tropical flowers to you. Relax with dinner or drinks poolside when the sun goes down.
OBEROI WILDFLOWER HALL, SHIMLA
Hill stations in India are not generally known for swimming pools, much less infinity pools. However, the Oberoi Wildflower Hall in Shimla deserves a special mention. At 8,250 feet above sea level, the infinity pool here extends into the magnificent Himalayan mountain ranges. Breathe the cool fresh mountain air, and gaze into the distance at snow capped mountains and lush forests.
RADISSON BLU TEMPLE BAY RESORT, MAMALLAPURAM
Mamallapuram in Tamil Nadu is blessed to have Radisson Blu Temple Bay Resort, located shore side in 44 lush tropical acres. Not only are you in close proximity to the Shore Temples and Arjuna's Penance, but when you return from sightseeing, you can choose from the infinity pool to relax in, with views of the Bay of Bengal, or the stunning 27,000 square feet meandering pool which weaves through the resort. If you awaken early enough, take a dip at sunrise and feel your senses uplifting.
MARINA BAY SANDS, SINGAPORE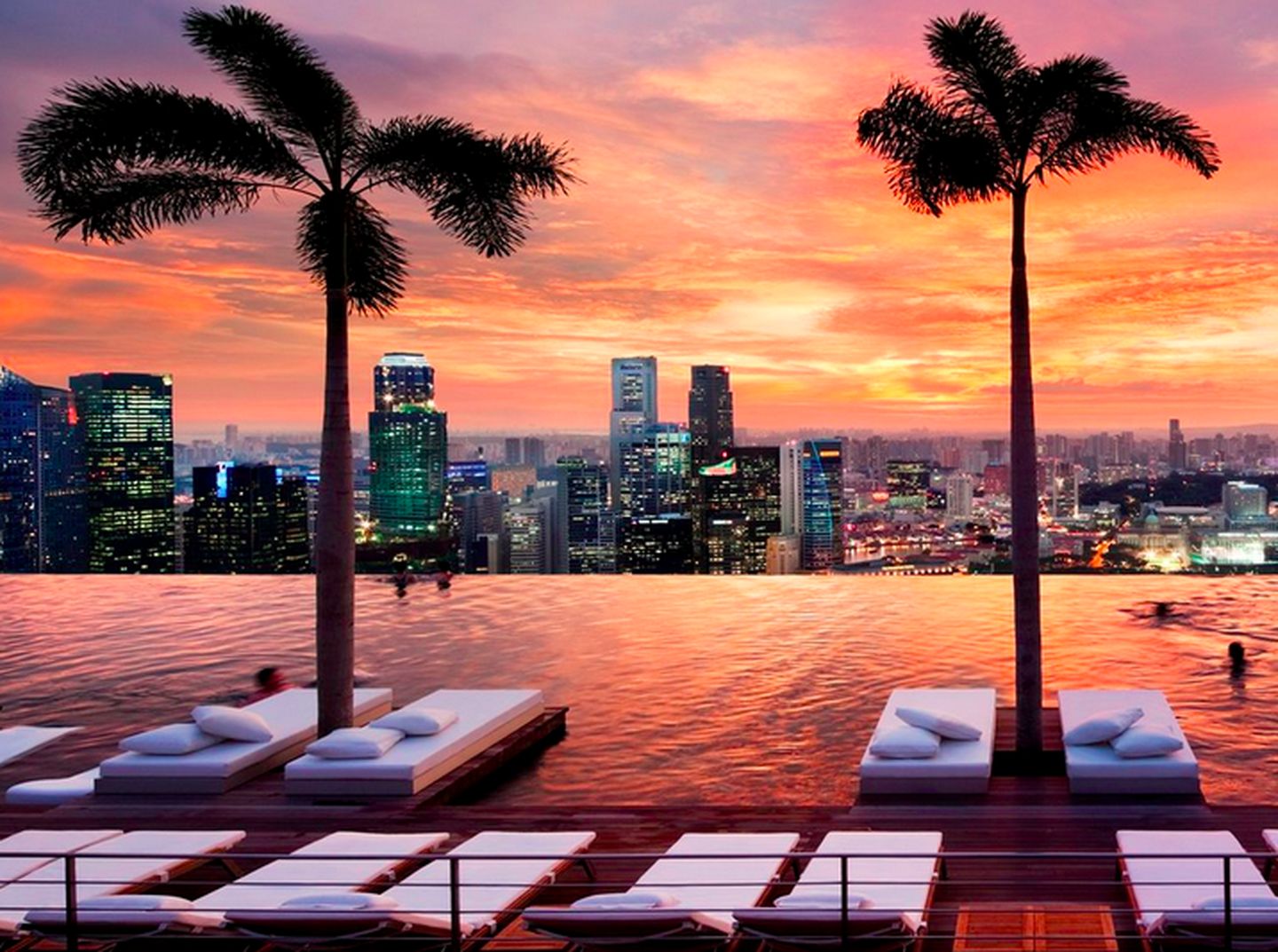 Really, who wouldn't want the chance to take a dip in this pool? Possibly the most spectacularly sited city based infinity pool, it's situated 57 storeys about street level. You won't get a better city skyline view than this.
THE CAMBRIAN, ADELBODEN, SWITZERLAND
The thermal outdoor infinity pool here in the Swiss Alps offers you a most amazing experience – bask in the beautifully warm water while contemplating the wonder of the snow capped mountains which seem close enough to touch. If you can manage to prise yourself away from this magical spot, The Cambrian has sleds for hire to allow you to get up close and personal with the mountain slopes. Apres ski has never been more luxe.
CONRAD RANGALI, MALDIVES
This resort boasts two infinity pools and over the water spa and the worlds first underwater glass restaurant. Really, what else is there to say about a place so beautiful with water of the most fabulous colours.