If you've ever wondered what the luxurious life of a zamindar who lived over a century ago could have been like, you'll get your chance to experience it at the Chambal Safari Lodge.
The Chambal Safari Lodge, just 65 km southeast of Agra, is an eco friendly lodge near the Chambal National Bird Sanctuary, surrounded by forests and away from the din of city life.
History of the Chambal Safari Lodge
The Mela Kothi (the property's original name) was built by the Zamindar of Jarar, Rai Saheb Ch. Suraj Pal Singh in the 1890's. The Kothi was originally built amidst the jungle for the family's bi-annual cattle fair and has multiple rooms to offer, with vintage interiors, mud walls, and bright linens. The whimsy and nostalgia all serve to transport you to a completely different time and a different way of life.
The Lodge is now an Eco Lodge where all activities are carried out with the environment's preservation kept in mind; you won't find too many properties that develop their flora (flowers, plants, trees and sometimes even food) in accordance with the natural habitat.
The Lodge is open from October through April, and is deliberately closed during the other months for the ecosystem around the lodge to grow and rejuvenate itself. When the right season comes around, the lodge is reopened to welcome old and new guests as before!
Meals at the Kothi
Expect delectable, finger-licking good meals at the Chambal Safari Lodge.
As we speak, the Lodge is making concerted efforts to revive recipes of the wealthy households of the region with additions of new and innovative tastes.
The buffet spreads available at the Lodge are cooked with fresh ingredients and vegetables grown organically by them. When you're dining, you'll be seated amidst trees and beautiful plants and flowers with evening bonfires.
It's a wonderful time to strike up a conversation with a fellow guest or spend the night stargazing. A cup of coffee is always available in the meal space and guests are welcome to help themselves to a warm drink throughout the day.
Staying at the Chambal Safari Lodge
There's no question about falling in love with the accommodation at the Chambal Safari Lodge. Certainly multiple rooms are available to fit different budgets, but they are all well lit with every bit of attention paid to the details.
Expect to find bright colours, vintage furniture, and comfortable linens throughout your stay.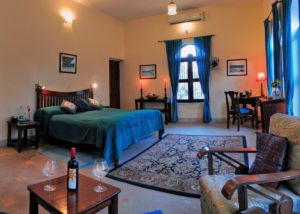 You can choose between normal rooms as well as stand-alone cottages.
The property is great value for money when travelling to Chambal and it's the perfect getaway to take a quick break from the noise and rush of the city. Take a few days to unravel under a starry sky and breathe surrounded by lush forests.
We promise you won't regret it. Contact us for any information or assistance you require for booking your trip!